Social media has emerged as the most popular media platforms. It has given us endless opportunities to connect with our friends and family.
Not only we can relate, but also use the platform for the business purposes. Almost every social media application can be used for media marketing. You can create pages on different social media.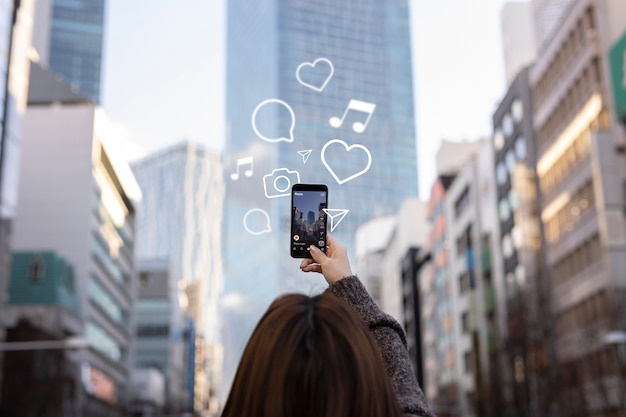 BENEFITS OF SOCIAL MEDIA MARKETING
Using social media for marketing has proven to be efficient way of marketing.
It has proven to be better can be the conventional style of marketing. It has following benefits.
WIDE CUSTOMER REACH
Almost everyone in today's world has accounts on social media. Some are using more than one social media applications. The audience on social media is much more and diverse. You can reach your target and grow globally as well.
BRAND BUILDING
Social media business page can help you to establish your brand name.
it will increase business visibility and brand recognition.
If you are using social media marketing tools, it will assist in increasing visitors to your page.
Thus, making your brand popular among people.
IMPROVED CUSTOMER SERVICES
Social media marketing is very helpful in upgrading your customer services.
Confessions and suggestions of customers can be taken easily.
Improvisation in customer services and customer satisfaction.
COST EFFECTIVE
Social media marketing is cost friendly and making accounts on social media is free of cost and easy to access, therefore, creating on account is very much easy for everyone.
Also, good marketing skills used can save up to a lot of bucks to be spent.
The money consumed on advertisements could be saved on a greater level.
SOCIAL MEDIA MARKETING TOOLS
Productivity boost is seen with the help of social media tools.
Many of which social media marketing tools are mentioned below.
• Buffer
• Hootsuite
• Feedly
• Sprout social
• MeetEdgar
SOCIAL MEDIA MARKETING FUTURE
The opportunities for using social media marketing are endless and versatile.
Introduction to new opportunities and marketing trends are helpful for business growth.
Few trends which can take over in future are shown as under;
• VIDEO CONTENT
As said by experts, more video content shall be seen on social media rather than texts.
The visuals are without doubt more powerful than text content and is ought to give a better scenario for a particular brand than in written, moreover, visuals are easily understandable by the children and old aged people and requires less effort than reading about a particular thing.
Videos are better in aesthetics and explains the purpose with much more clarity.
Also, customer trust towards the product will hike.
SOCIAL MEDIA FUTURE
1. MORE DEPENDANCY ON SOCIAL MEDIA
With time, businesses are making their online websites and media pages because of their reach.
In the future, we will see that the companies will depend more on social media for their business growth. Even now, we see that is anyone wants to search for a product; they seek it on social media to find for the product details and company.
2. MICRO INFLUENCERS
For brand promotion, it will not be necessary to endorse a high-rated celebrity.
Micro-influencers are now being used for development of business and products. Influencers who have more than 30 thousand followers collaborate with industry for promoting products. This trend is already in motion and will increase in the coming years.
3. ARTIFICIAL INTELLIGENCE
Experts are working to introduce AI in our daily lives. In the future, AI will be incorporated with Social media for better performance and features. Chatbots will seem more human, and they will work as well as us. AI services will replace customer services.
4. AUGMENTED REALITY
Augmented reality gives the customers to try out the product to see how it looks graphically. For example, if you are planning to buy sunglasses, you can try them on graphically and see how they will look on you. It will help you in better decision making.
LIKE PROVIDERS
We are already seeing how people are using different services to increase their likes, views and reach on social media. For example, you can use Instagram like providers to increase your followers. It costs you, but it is worth it. You will not have to put in more efforts.
CONCLUSION
Social Media is unpredictable. The chances of social media to evolve are endless. In the coming years, social media will take over other conventional styles of marketing and business. Experts are working to utilize social media platforms to produce more opportunities and ease for everyone.